The fit of a piece of footwear is as important as the care. Before you apply any conditioner to the boots or shoes please check the following items.
Always try the shoes on with the sock combination that you intend to use while wearing the product.
In the case of a hiking boot, I see the majority of people still wearing a two sock combo, heavy outer and a sheer inner sock. In the case of a single sock user I have seen a switch to the new wool hybrids… i.e.  Smartwool, Fox River, etc…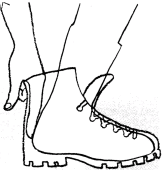 There is a fine line between not enough sock and too much. Not enough will not protect your foot against making contact with the boot. Too much won't allow the boot to hold your foot securely in place in the boot.
To check the length of a boot, slide your foot into the boot moving it forward until your toes just touch the inside front of the boot. Adjust your knee so you can slide your index finger between your heel and the heel of the boot. You should have a snug fingers distance or approximately 13 mm of room between your heel and the heel pocket of the boot.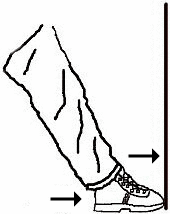 Once you have determined that you do have that amount of room, plant your heel firmly into the heel pocket and begin to lace the boot up. Pay attention to the fact that you may have to lace tighter than normal to overcome the newness of the boot.
Spread feet apart, bracing one foot against the wall. This will simulate walking down hill.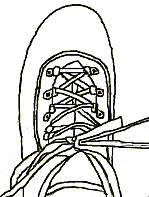 Push your foot forward into the boot , at this point you should not be striking the toebox of the boot, you should have full mobility of your toes.
At this point you want to make sure the lace fixtures don't come too close together, because as the boot breaks in this area will come closer together but the boot fits fine in all other aspects, the use of a foot bed or the installation of internal padded tongue might be necessary.
Contact Peter Limmer and Sons for internal padded tongue installation. Click here to email for information or  use a super foot tongue depressor.
Proper lace take-up should be approximately 3/4" between folds of gusseted tongue.